Grab, and move the fabric with the cursor. Scroll down to know Who we are!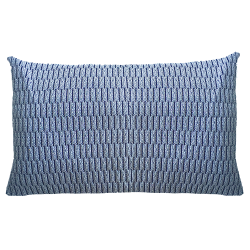 Pillows
Luxurious pillows with our exclusive three dimensional fabric are the perfect accent piece in your living room.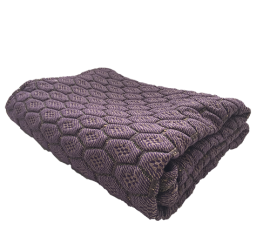 Throws
The perfect and exclusive warm piece for all winter.
Cotton and cotton Alpaca mixed in double-cloth woven pieces.
Fandindo is a textile design and fiber art studio based in the United States where artist and designer Luisa Gil Fandino develops and produces one of a kind three-dimensional textiles using different techniques like weaving, embroidery, knotting, braiding and more. Luisa's expertise in fibers and fabrication techniques helps her create fabric structures in the form of  sculptures, wall hangings and other installations that comply with different architecture and interior design codes.
Born and raised in Colombia, Luisa has been actively researching ancient textile techniques and their context.  Also, experimenting with natural fibers, manipulating them and hand making cords for the best hand.
Luisa is also a professor of textiles and collaborates with computer scientists and engineers in the development of technical fabrics for different fields.
Fandindo is an overall exploration of textile techniques to create structures and textural surfaces. Fandindo's innovative textiles have been exhibited in New York's ICFF, Paris's Premier Vision and London's New Designers.
I make sculpture and site-specific installations and wall-hangings that entice interaction and stimulate curiosity through structures made with different textile techniques. Through the use of knots, embroidery and ancient weaving techniques, I look for ways to make shapes and forms that create volume and change the perception of the space they are in, while being translucent, subtle and lightweight.
The Ulysses Syndrome is defined as the different stressors migrants like myself encounter once we leave our homes. As a Hispanic immigrant I'm aware of the implicit search for home and belonging, and found with fibers a way to connect with my local community and mitigate feelings of isolation.
While becoming a textiles professional and academic, I cultivated a passion for the three-dimensional micro- patterns found in nature, like shark skin or the wing of a butterfly under the scanning electron microscope. I carefully study the architecture and repetition in these patterns to guide my work experimenting with different qualities of fibers, yarn sizes and fabrication techniques.
USA
(1) 914 2558014
info@fandindo.com